Moonrise Herbs – The History

by Irene Lewis, Herbalist & Proprietor

 

Sisters Sarah and Lisa Hoyt established Moonrise Herbs in 1985. Their vision was to be a resource for high-quality herbs, natural healing products and information on natural medicine. Lisa had been going to the California School for Herbal Studies when Sarah's daughter Ciel contracted a nasty case of impetigo. Sara had tried the doctor's recommendations of antibiotics and an ointment but was not finding them to be effective. At her wits' end, Sarah asked for Lisa's help. Lisa suggested a poultice of Usnea and Clay to be applied topically several times a day as well as some herbal teas for Ciel to drink. Ciel's impetigo resolved itself within a week's time and Sarah was sold on healing with herbs. Although when Sarah went to try and purchase herbs she found it very difficult, our community was in desperate need of an herb store.

 So, with little money but a lot of dedication, Sarah and Lisa created Moonrise Herbs. At first, Moonrise Herbs existed in a tiny Victorian House on a side street in Arcata, California. The house was divided in two; half was rented out to massage practitioners and herbal consultants and the other half, which included the kitchen, became the work space where herbal concoctions like salves and oils were made as well as the humble retail space that sold a selection of bulk herbs, inspirational books, music and the locally made herbal products.

 

Soon after the inception of Moonrise Herbs, Lisa left to pursue an education for the career she currently holds, a holistic physician's assistant. Sarah staffed the store with volunteers who were willing to work for a dollar an hour in store trade. She was truly inspired by the wonderful support and interest our community had for Moonrise Herbs.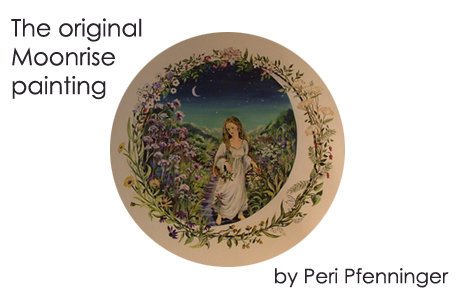 In 1986, the first Moonrise Herbs newsletter was printed. In those days, desktop publishing being non-existent, Sarah used a typewriter and then manually cut and pasted the images to be used to adorn the newsletter. She mailed out 85 copies of that first newsletter, and everyone loved it! They found the articles informative and the recipes fun. In 1988, Tim, Sarah's future husband, started writing delightful fairy-inspired stories to go into the newsletters. Tim also created an herb garden that extended from the front of the house, to the side yard, and all the way into the back. It was very sweet and beautiful, and many people came just to sit and breathe in the serene space.


 

In 1988, Moonrise Herbs' current logo was create by Joanne Rand, a friend of Sarah's, a locally known singer and songwriter. The New Moon (signifying the birth of beginnings and ideas) and the plant known as Self-heal are now seen on t-shirts and sweatshirts all over the world.

As time passed, the store grew in popularity and demand, and Moonrise Herbs outgrew the tiny Victorian house with its sweet little garden. It was a difficult choice to make, but in the store's best interest, Moonrise Herbs moved in 1996 onto the Plaza in Arcata. Because of its central location, the storefront on the plaza has allowed us to reach out to many more people and practitioners. And thanks to the new location's size, instructors have been able to utilize our space for classes on herbs, astrology, psychic awareness and other healing modalities. The larger space also allowed us to expand our merchandise selection; we have brought in Fair Trade clothing and bags, incredibly beautiful silver and stone jewelry, inspirational statuary, crystals, assorted gifts, and a much broader array of herbal teas, tinctures, supplements and essential oils.

 
I entered into Moonrise Herbs as a vendor in 1990. I produced a product line called "Irene's Dream Simply Herbal." Moonrise Herbs was very supportive to me and really was inspirational in the growth of my business. At that time I lived in the mountains an hour from town. In 1998, I moved closer to Arcata and was longing for more social interactions. I was hired by Sarah and worked on the sales floor giving herbal consultations 2 days a week, continued running Irene's Dream, and taught herbal classes too. Working at Moonrise Herbs, I became increasingly aware of how closely people held Moonrise to their hearts. The store was like a dear friend, inspiring many, and had become a retreat for several whom entered the store just simply to breathe. I also came to realize that Moonrise Herbs was and is highly respected by physicians in our area who regularly send their patients to us who are seeking herbal knowledge.

In 2003, after running the store for 18 years, Sarah put Moonrise Herbs up for sale. She was ready for a new phase in her life. She wanted to go back to school to pursue a degree in creative writing. Creating the newsletter helped her to realize that she had a gift as a writer. After 13 years of manufacturing and selling my herbal lotions, salves and soaps, I too was ready for a new phase in my life. I love to bring beautiful ideas and concepts to life and wanted very much for Moonrise Herbs to remain in the family. I truly understood what everyone loved about Moonrise and I was concerned that a buyer from out of the area might not be as in touch with our community's needs. Sarah and I started discussing how I would purchase the store. In August of 2004, with a lot of help from our dedicated staff, I took on the daily management of Moonrise Herbs. Escrow closed in October of that year and I officially became the new owner.

 The first 5 years were exciting and challenging.. Thankfully  the essence of Moonrise Herbs was kept alive and well. I was  able to enact some fantastic additions. You can now purchase organic pure essential oils by the drop at our Scent Your Soul service window  to enhance any salve or oil, or make your own personal blend. We had also upgraded our kitchen and we could offer a delicious all-organic soup and salad bar. We created homemade soups and featured locally grown or produced spring greens, mushrooms, olives, tofu, bread and dressings. The greens in our salad were seasonally decorated with edible flowers, creating a vibrant and colorful glow that was a feast for the eyes, body and soul. During the economic recession we had to let go of our kitchen but, the salad bar was so well loved that to this day ( 2018) we still hear of the found memories  our customers have. Today we are expanding our wholesale tea orders as well as our website. Keeping with the times we now email a link to our newsletter and you can  follow us on Facebook and Instagram.
 
May this beautiful wheel keep spinning, always facing towards the light, as we grow, shift and change, may we never lose sight, of the essence of the beginning and the reason we delight.

 

Blessed Be,

Irene