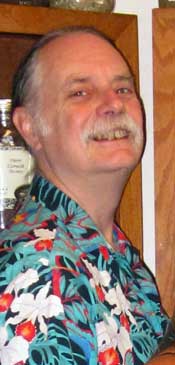 Sylvester "Sly" Holladay, Staff Herbalist

Sly has been interested in plants for the last 30 years. While weeding gardens, he discovered that the lamb's quarters and pigweed that he was uprooting were in many cases more nutritious than the garden plants he was laboring to grow. Thus Sly was inspired to learn more about his plant neighbors.
This interest in identifying pants and studying their nutritional and medicinal properties has continued across several states and has now taken root in the lush environs of Humboldt County.

Sly studied herbs for a full summer at the California School of Herbal Studies with Rosemary Gladstar, David Hoffman, Christopher Hobbs and Jane Bothwell, which allowed him to both consolidate and add to his knowledge of herbs. He also received a bachelor's degree in biology from Humboldt State University and has taught biology at College of the Redwoods.
In addition to western herbs Sly has studied Chinese and Ayurvedic herbs and incoporates this combined knowledge in assessing which herbs would be beneficial for a given individual in a given situation.